Our Webinars
Our webinars bring together industry experts and leaders from a wide range of sectors within emerging markets across Africa.

VIEW PAST WEBINARS ON DEMAND
Revisit one of the popular webinars brought to you by Millar Cameron. Each webinar explores a different topic and is made available for viewing on catch up, after the live recording.
Webinar One:
Unlocking Africa's Economic Prosperity
A webinar exploring the opportunities and the challenges that Africa's users and providers of digital infrastructure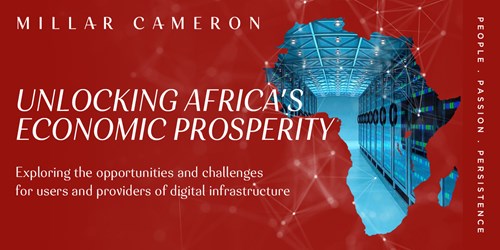 The first in a new series of webinars brought to you by Millar Cameron, brings together a distinguished panel of sector experts, from across the
Power, Real Estate and Technology sectors, to discuss what can be done to further accelerate Africa's growing digital infrastructure industry.
The session is chaired by Rack Centre CEO and Chairman of the African Data Centre Association, Dr Ayotunde (Tunde) Coker and the Millar Cameron team are joined by;
INTERESTED IN OUR WEBINARS?
If you have a question or would like to find out more about our webinars please get in touch.