5th Oct 2021
Increasing women in investing and investing in women
A webinar exploring impact investing and gender in Africa.
Filed under: Webinars

Impact investing is an essential tool in the mission to achieve the United Nations Sustainable Development Goals of ending poverty and discrimination whilst protecting our planet.
The potential for investment across Africa is huge, and impact-oriented investing continues to produce powerful results in social, environmental, and economic progress.
But Africa's impact investors need more women.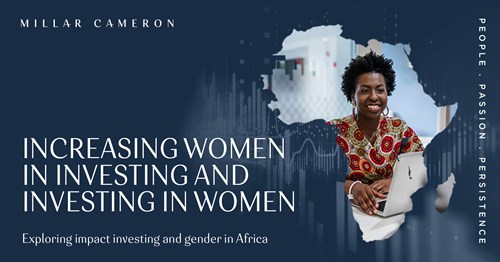 As an Africa-focused executive and professional search firm, we have witnessed the push to close the gender gap in investment first-hand from the investors we partner with. And it's not just limited to the investment team; women entrepreneurs and leaders are experiencing an increased interest from investors seeking to improve gender equality.
But why invest in women? What are the barriers women face in accessing and utilising investment? And what role do women in investment teams play in furthering gender lens investing?
Guest speakers

Watch our recent webinar, with a distinguished panel of industry experts, discussing these issues and answering your questions on some of the sector's most pressing topics including why investing in women is so crucial, and the roles women in investment teams are playing in furthering gender lens investing.