11th Jul 2022
Our Power Team attend the Africa Energy Forum in Brussels
Justin Wharton, Tim Beckh, and Hamish Scragg of the Millar Cameron Power team were present at the Africa Energy Forum (AEF) in Brussels which ran from the 21st to the 24th of June. The event is an annual highlight for professionals in the African renewable power and energy sector and gives a platform for key stakeholders across the sector to discuss successes, challenges and opportunities in sustainable development.
Filed under: Blog Articles

Key themes of the conference this year were the acceleration of access to energy across Africa through investment and development of mini-grids and peri-urban metro grids, as well as how to unlock larger investments into national and cross border transmission and distribution infrastructure. There were also several lively discussions on the "just transition" of Africa and significant excitement about the potential of green hydrogen.
Increasing access to energy is arguably the most important priority in Africa's development. Of the 900 million people without electricity access in the world, 565 million (72%) live in Sub-Saharan Africa and especially in rural and peri-urban areas. Mini-grids have been identified as a partial solution to rural connectivity challenges as they provide energy access without the need for state utilities to build distribution networks and are quicker to develop and install than large utility scale generation. Indeed, the potential for solar hybrid mini-grid solutions across Africa is a game changer. In the SAHEL region alone, there is potential for 7.6kw sqm per day (double that of Europe) of solar power. One of the challenges faced in mini-grid development is the susceptibility of the supply chain to global shocks and inflation as we are seeing. Also, it is challenging to raise financing as investors are cautious of entering the space without concessional finance from major global financial institutions providing capital who in turn have their own hurdles. An exciting development announced at AEF was AFDB and PIDG signing a $379.6m financing and technical assistance facility for the next 7 years.
A second challenge in access to energy across Africa is the lack of investment into transmission and distribution infrastructure by state utilities. It is estimated that by 2040 $345bn of investment is needed to absorb current and planned power generation. As Dan Croft at IFC suggested, the lack of investment is down to the lack of bankable projects on paper - state utilities and most private distribution networks lack credit worthiness and governments lack the political will, given these types of transactions have not been done before. As such, the conference attendees were delighted to hear of the IFC's announced distribution deal in Mozambique, shortly followed by UK Prime Minister Boris Johnson's announcement of Gridworks' investment into the Ugandan distribution infrastructure. All of which highlights there is an appetite across the public and private sector to provide financing to key infrastructure that will increase energy access across poorly served African markets.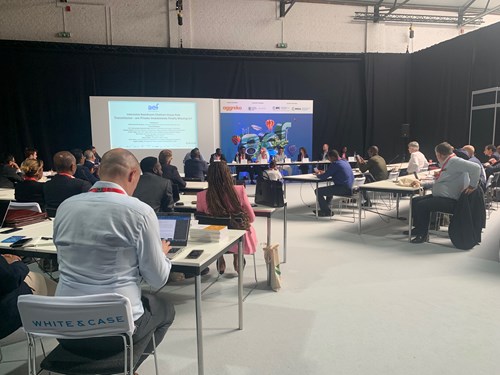 AEF saw the continuation of debate around Africa's "just transition" from fossil fuels to renewables with people adding their opinions on whether it is fair to ask Africa to be the first continent to industrialise, fuelled by green energy. It is a complex debate with many strong views on both sides but there is agreement and hope that a potential solution will be green hydrogen and its displacement of gas for heavy industry. Indeed, Africa has seen Egypt and Morocco developing green hydrogen plants and a further 5 countries expressing a willingness to do so. There are huge cost and technical challenges with viability of projects in terms of size and energy required to build green hydrogen plants along with storage and transmission. It was clear from several panels composed of leading DFIs, multilaterals, private investors and Governments, that there is a strong commitment to solving these challenges and it will be fascinating to watch the developments in green hydrogen across Africa.
Human Capital and the challenge of finding, attracting and developing sector leaders was a consistent topic of discussion and concern at every breakout and informal gathering. Although not on AEF's official programme, it is up there with financial, regulatory and structural challenges but it came as no surprise to us as head hunters that this was consistently being highlighted during informal discussions. Not only is it a challenge to find seasoned experts in traditional thermal generation on the Continent but the demand for those in renewable and off-grid technologies is burgeoning. There is limited depth of experience in these nascent fields and demand is dramatically outstripping supply, adding further upward pressure on salaries.
Hamish Scragg is a Senior Consultant in the Power & Infrastructure team at Millar Cameron, a leading executive and senior management recruitment business operating exclusively in Africa and emerging markets.