13th Jul 2023
AEF23 Recap: Exploring Africa's Thriving Energy Landscape, Consolidation Trends, and the Growing Potential of Green Hydrogen.
Thank you Nairobi for your hospitality and thanks to all the AEF23 participants for making it another memorable event.
Filed under: Blog Articles
The AEF strapline, 'In one place' aptly summarises the value of this conference. No doubt the shift to Teams, Zoom and Google Meet has reduced air miles and facilitated greater communication but there just is no substitute for getting everyone together – despite the conference's intermittent wifi! And this year's AEF was no exception with impressive attendance by investors, decision makers, governments, developers, OEMs, and service providers as well as numerous other participants and a good number of hungry students who made the most of the catering!
Hot on the heels of Infinity's acquisition of Lekela earlier this year, Actis took the opportunity to announce the sale of BTE Renewables to Engie and Meridiam at a total enterprise value of US$1bn. Bidding was also announced for Starsight Energy. Further consolidation in the sector continues, a theme illustrated by Starsight's merger with SolarAfrica, Copenhagen Investment Partners (CIP) acquiring Mulilo in South Africa, and the recent $50M commitment Gridworks - the investor in Africa's electricity networks - has made in Virunga Power – the developer and operator of hydro-backed distributed renewable power generation projects and distribution networks.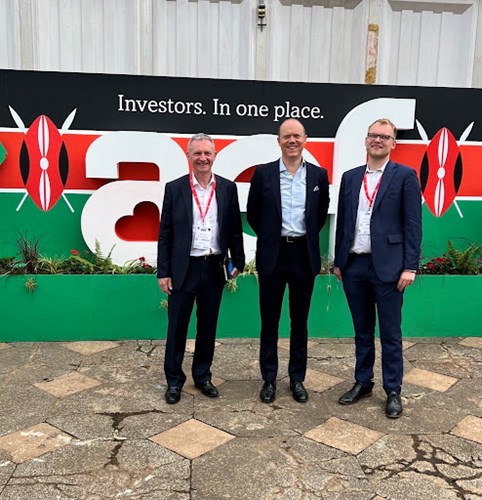 The Commercial & Industrial (C&I) market is getting hotter and hotter across the Continent both in the rooftop domain and larger industrial scale with increasing activity and focus on captive power in the mining space. Moreover, the sheer scale of potential offered by wheeling in South Africa's C&I market is creating a lot of new entrants and is driving the growth of existing players.
Green hydrogen also continues to occupy a lot of airtime and divides opinions as to its potential on the Continent. The scale of investment is mind-blowing yet the idea of exporting Africa's energy resources, be they in the form of electrons, hydrogen or ammonia, whilst so many in Africa have no electricity, leaves some pondering an awkward moral dilemma.
Whilst the Youth Energy Summit is a great initiative to encourage participation and provide industry access to the next generation of energy professionals, there was little coverage of the human capital challenges faced by the industry – not least driving greater diversity and inclusion. Having said this, speaking and listening to many of the Founder CEOs one is filled with respect for their sheer ambition, tenacity and innovation… and their optimism is infectious… roll on AEF24…. Egypt here we come!